April 25, 2017
Student Highlight Series: Tony Chennault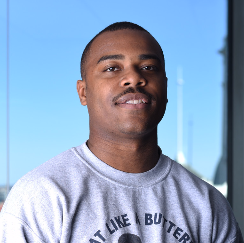 "Being able to tell a story from my perspective is important to me. I've always considered myself a leader. I like helping others, I like empowering my people, especially people of color. Being a filmmaker gives you that power, and it gives a medium to connect with people."
Tony Chennault is a filmmaker who, most notably, has been working on his web series Old Head, currently about to start its second season. He is a student of the Institute of Hip Hop Entrepreneurship's Class of 2017.
Tony grew up in the Philadelphia public school system. It wasn't until high school that he attended a private Catholic school, Saints John Neumann and Maria Goretti Catholic High School, where Tony really started taking his schooling more seriously. "The work was so much more demanding as opposed to public school. And I knew if I wanted to play basketball I had to have good grades. I had some responsibility there." Tony then attended Wake Forest University in North Carolina before transferring to Villanova University, where he graduated in 2014 with a degree in Communications.
"My interests back then was just basketball, basketball, basketball, you know? I come from a place, Olney in Philly, it's just like basketball was just a way of life, and it wasn't until college when I got exposed to different things, I met different students." From those new friends from different walks of life, Tony was exposed to their interests and experiences. "They expanded my horizons. I started putting myself out there to be open to other things besides basketball, and that's how I got into filmmaking."
He started taking film classes as he was enrolled at Villanova, where he met Professor Stephen McWilliams, who was instrumental in his becoming a filmmaker. After his mentorship, Tony approached McWilliams to play a character in his Old Head webseries.
"Old Head gives an authentic depiction of inner-city lifestyles, narrowly focusing on some of the socio-economic issues that inner-city youth deal with, such as drugs, violence and lack of resources. An "old head" is an authority figure that passes down wisdom to younger generations. In creating this series, we wanted to drive social change by showing relevant issues that our people and youth have to deal with daily. We wanted to bring people who are not from that perspective and life into that world [with this series]."
Despite his current successes, Tony's upbringing was fraught with hardship. "Growing up for me, sometimes you'd see the people around you die in Philly. You see people around you going to jail. You just see people around you just not living life; they're living, but they don't have no purpose. [They're] just living for today, and not planning for tomorrow. I had to get out of that type of mentality, and I had to surpass myself from that." For now, Tony is trying to better himself, mentally and in his craft as a filmmaker. He says that his education from childhood to college really uplifted him, and his enrollment in IHHE continues that.
"[IHHE] is a great program, it gives a lot of young entrepreneurs from Philadelphia a platform and an ecosystem to produce and create the things they wanna create around OTHER young artists in the city. So I think it was something genius." Tony mentions that the practical aspects of the program, such as how to put together a business plan, how to drive revenue, and other aspects of the curriculum supplemented his knowledge as he continues growing his company.
Tony cites many influential people in his life, but his main influence has been his mom. "My mom worked two, three jobs, single mother, took care of three boys. We grew up poor, we didn't have nothing. Like missing windows, no electric in the house, the clothes I got was my brother's clothes, and he got that from my older brother. So we grew up without nothing, but one thing my mother taught me was compassion, whatever you do you do it with compassion. When you be a good person, a lot of opportunities will present themselves for you."
Tony's IHHE business proposal is his film production company. "I want to focus on telling stories about people of color from underrepresented communities. Instead of focusing on the vices that you see in a lot of media today, we want to tell that other perspective of people who are the real heroes, like teachers, principals, community center leaders. People who are on the frontlines everyday that striving to make differences in their communities."
"This program has been a major help to the work I'm doing, and I'm grateful for that. We need to keep getting better you know? Keep inspiring others, drive the culture forward. And we gonna drive the culture forward through content. Back in the 90's, they drove the culture through music, and I'm trying to do that through content. Same vision, different lane."
In the future, Tony is planning a few different endeavors. He plans on launching a new film company this summer 2017. He is also looking to do feature films, currently in the planning stages for the next 8-10 months. The second season of Old Head came out April 29th, you can find out more on their website.