April 25, 2017
Student Highlight Series: Taahirah Stith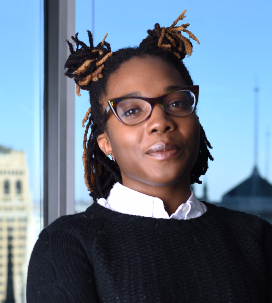 "I like the psychology behind marketing, I like studying people and finding out why they buy things.  Marketing is science-based, but it also allows you to be creative when studying human behaviors. There's a logic to getting people to buy something, how they buy something, and how you sell the products to them. I like thinking about these things as a science."
Taahirah Stith is a Philly native, born and raised. She is co-owner of small business start-up Beans+Brains with her sister Nakia, Taahirah is now a part of the Institute of Hip Hop Entrepreneurship's Class of 2017.
Taahirah graduated from Morgan State University with a degree in marketing. "I was always slightly bending the rules, and that's coming from where I grew up, I come from a family of entrepreneurs. Writing your own ticket is the way I see life." Taahirah's great-grandfather owned a large farm; her grandfather and then her father were entrepreneurs as well. Now she finds herself continuing this long line of entrepreneurship.  
Beans+Brains, focuses on food education, cold-pressed juices, and plant based vegan meals. Taahirah is a certified health coach, a vegan and a travel enthusiast. "I like to camp, I think everybody should camp. You are on the earth, getting an appreciation for nature and your surroundings, you know?" The Stith's are currently ready to transition into a brick-and-mortar store, and are scouting out potential sites around West Philly.
"I've been gardening, picking fruits and vegetables from as long as I can remember.  We even had ducks in our backyard," Taahirah tells me chuckling. "And actually, [growing up around agriculture] was some of the catalyst behind doing Beans+Brains. I didn't necessarily think I knew a lot about food, until I realized that people would look to me for answers about healthy foods. That's when it clicked, 'I could do something with this.' It's a certain level of consciousness among people that understand that what you put in your mouth really reflects how you live. You don't want to dig your grave with your teeth. Everything starts with the food that you eat."
Now six months into the program, Taahirah remarked on her experience so far in IHHE: "The program has basically pushed me to make sure I stay on top of myself," Taahirah told me. "My business has blossomed more and more during my time in IHHE. While we are still small we are obtaining new clients everyday."
"Through IHHE I was able to meet some decent people in the food industry. Thane [Wright] who sets up cafes, provided some great insight. I met up with him, and talked about some of the things that I needed help with- like proper square footage, what he thought about my business idea, and other things. I also met with Michael [Sultan] from Revolution Tacos and we talked a lot about the food industry in general. Even if meeting these great speakers was the only thing I received out of IHHE, I am very grateful because of all the insight I got from them alone."
While a goal for her immediate future includes opening up a physical shop location, she had some reservations. "I'm not a person that likes to stay in one place or anything. I'm hoping that my business can reflect my lifestyle, that would be ideal."
I responded, "Maybe a food truck?"
"You know, food trucks are a lot of work, that grind is crazy! You have to have a commissary kitchen, where you prep your food, you get in the truck you do this and that. I mean it's a good idea in theory, but I think I would much rather have a shop, you know? It's really romantic to think about roaming the countryside in a food truck making good food, but when I think about being on my knees scrubbing the greasy truck down, I'm quickly back to reality."
Taahirah says she is inspired by her sister Nakia, who is 13 years older than her. Upon finding out that their ailing father Gregory needed a kidney transplant, Nakia volunteered her own. Unfortunately for the Stith family, Gregory soon passed away. After his death, Nakia took over his small private security business and turned it around to a thriving firm which employs nearly 200 employees. "I look up to my older sister Nakia a lot, I'm very appreciative and grateful for everything she's done," Taahirah told me.   
In regards to Philly entrepreneurs that Taahirah is inspired by, she mentions Todd Carmichael, co-founder of La Colombe Coffee Roasters. "I love everything he does with La Colombe, the way he speaks, and his trek across Antarctica! He lives and breathes coffee, and he's incorporated that into everything he does. He's allowed himself to travel, have multiple interests, and make innovations in coffee. I don't even drink coffee, I don't even like coffee, but I love to hear him speak."
I asked her, "What's your favorite vegan place in Philly?"
"V-Street right on 18th, 19th off of Rittenhouse. Rich Landau, same guy who does Vedge and WizKid. Vegan Commissary, I used to work there. Steve the owner is really cool. Vedge is really good too!"