April 25, 2017
Student Highlight Series: Stephen Tyson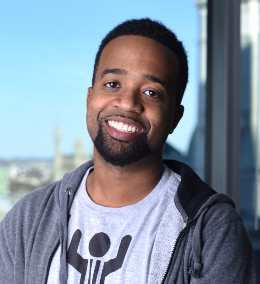 "The most valuable aspect of IHHE has been the connections I've made with both my classmates as well as the staff and facilitators of the program. It is truly a wealth of knowledge and experiences, which I am grateful to be a part of."
Stephen Tyson is an emcee and DJ that works with Hip Hop and in Electronic Dance Music. He also works through JusListen Entertainment (JLE), an organization he co-founded that focuses on education, the arts, and music. He is now a part of the Institute of Hip Hop Entrepreneurship's Class of 2017.
Stephen was born in the Bronx, but he and his family moved to Johnstown, PA as a young child. He describes his early childhood as one without many peers who looked like him.
"Racism was probably my biggest challenge, growing up. Being Afro-Latino in Western Pennsylvania, I was raised in a community and school where there were not many families of color and there was a high amount of animosity toward black people. The only other folks who I saw looked like me attended the same church as I did."
Even as a young child, Stephen was intimately attached to music, learning guitar, piano, trumpet, and a variety of drums (trap set, djembe, congas, mridanga) to name a few. Growing up he was heavily influenced by his family (including his uncle, science advocate Neil deGrasse Tyson), his first boss Russell Simmons, and first black President Barack Obama. Stephen lists his first teachers as "KRS-One, Chuck D, Martin Luther King Jr., Malcolm X, and JAY Z."
When he is not rapping or DJ-ing, Stephen is studying for his doctoral degree in education at Arcadia University. "I chose this degree because it directly correlates to my vision for Hip-Hop culture as a method of educating and empowering youth worldwide." Both of Stephen's parents work in academic institutions; from them he's learned to view education as a vehicle to pursue his interests and passions, and encourages others this way through JusListen Entertainment.
"My business proposal for IHHE is centered on securing financial investment in JLE. It was a challenge to determine which facet of the company to pitch for funding, but thanks to some productive conversations with some of our guest lecturers I was able to determine which facet yields the best profit margin and moved forward from there."
Stephen's immediate plans for the future is to continue building the brand and network of JLE. He has performed at the legendary Apollo Theater, reached over 1.5 million digital streams of his music, composed theme songs for radio shows & podcasts, and JLE been commissioned for photo & video coverage of prominent events throughout Philadelphia and NYC. His only goal for the company is to "continue moving on our path. Ever forward."

You can find and follow Stephen through his accounts below, as well as the accounts of JusListen Entertainment.
Soundcloud
DJ EAR.2.EAR
Twitter
JLE – Official Website