March 30, 2017
Session 5: People, Planet, Profit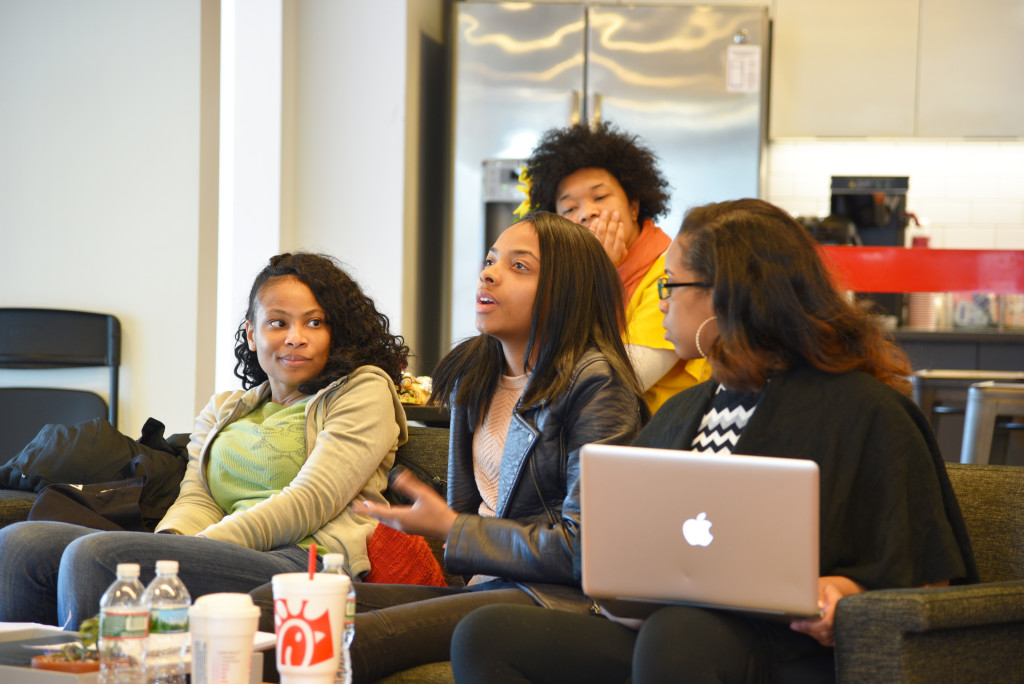 "Business success now is not only being judged by profit, but by social impact," IHHE facilitator Erica Hawthorne-Manon told the students bright and early, setting the tone for the weekend.
The month of March may have been one of biting cold and rigid snow, but the fifth session of IHHE marked a period of focus for students as they prepared themselves for the weekend's lessons. The curriculum for the month was Put on For My City: impact entrepreneurism, business for social good, and disrupting the status quo.
How can your business be a force for social change?  
Saturday Mar 11th – Day One
"Don't forget the brilliance in your midst, not only with your founders, but with each other!"" Donyale Y.H. Reavis, Managing Partner at Calyx Philanthropy Advisors
The morning check-in started with our Mic Check, with facilitator Erica asking for one-word answers to how the students were feeling for this month. "Eager, excited, motivated," said a few. "Process, ready, persistence," said the others. "Litty," said the last student. There was hope for the month, and the students were ready to start working.  
Among the many seasoned speakers and panel participants that we had scheduled for the day included:
Donyale Y.H. Reavis

, the morning's speaker and law practitioner in business, entertainment and philanthropy;

Dafan Zhang

, a law and business attorney with a special interest in technology and software developing;

Simon Rosen

, whose focus was in music law and provided legal counsel for producers, record labels, and artists;

Alexander Murphy Jr

., entertainment law and accomplished artist in his own right; and

Claire Lomax

, general counsel for a technology firm, focusing on intellectual property and risk management.  
Through their diverse experiences and skillsets, the speakers provided a body of knowledge normally inaccessible for many of the students prior to IHHE. As a group of attorneys and other law practitioners, the one theme that tied all of their advice was to exercise caution, especially in early business negotiations when contracts may be more relaxed with friends or close associates.  "Most of the problems that occur," Alexander Murphy tells us, "happen because there's no clear agreement. Don't bring in counsel at the end, you want them at the beginning! It's amazing how memories fade when money comes up."
The panel broke up into breakout groups to address the students and their business plans more specifically. Afterwards, lunch was served, where many students took the time to get to know and network with the panel members.
After the lunch break, radio personality and motivational speaker Dyana Williams joined the students for a session on soft skills and the importance of being able to display yourself and your brand in the best possible light. Williams stressed the 30-second elevator pitch, a quick and accurate description of your business and objective; the students will be able to literally test their abilities when they are tasked with performing their elevator pitch on the building's elevators.
Along with common skills such as maintaining good posture or a managing stress, Williams talked about her experiences in the radio and television industries, her relationship with her family and how that was reflected in her interactions with business partners and audiences.
Afternoons mark something of a lull each weekend, after the students have eaten and often after intensive business sessions or workshops. That afternoon's speaker however proved to rejuvenate the students' spirits. Philly rapper and community activist Freeway joined the session as the day's last speaker. Engaging the students with great enthusiasm, Freeway discussed aspects of his own life as an artist and businessperson, and common pitfalls to pay attention to for anyone in the creative industry.
"At the beginning of my career, I was so happy to be signed [to a record label] that I wasn't aware that I got robbed of over $100,000 [by former business associates]!" he told the students. This story coupled well with the  from earlier, which advised caution and to invest in legal counsel during all aspects of a burgeoning business. "I tried to do everything myself, which after a certain point just becomes too much."
Freeway went over important aspects of his life, including his fight with kidney disease and lifestyle changes to combat it, to his time in jail for possession of drugs. One of the defining moments of his life was his experiences on his pilgrimage to Mecca. He describes having to sleep on the floor with his fellow travelers, among other humbling experiences on the trip which put him at peace with his own life at that point.
In one funny moment, IHHE student Alonzo Goodman asked if Freeway remembers the 2013 Philadelphia Jay-Z and Timberlake concert, where he met Alonzo as a young guy and had a long conversation with (he did!). In another coincidence, both Freeway and IHHE co-founder Tayyib Smith attended Sayre High School. Throughout the conversation, three separate students got up the courage to freestyle for Freeway, as he had done when he was younger to his own idols and mentors.
In the end, Freeway let the students know that if they coordinated a music video with the combined creative talents of the class, that he would be a part of the video performing as well. A huge opportunity for the performers, producers, and videographers of the class, they immediately starting organizing to get together to collaborate with each other.
Sunday Mar 12th – Day 2
"You have to be out there, you have to know people. The wrong time to be asking for help from someone is when you need it. Do your research and reach out, give a compelling reason to why they should have coffee with you." Alex King, Vice President of Pace Data Systems
Sunday was a day for work, as the students were introduced to Alex King, a business leader and start-up CEO for the past decade. Guiding the students with his experience in marketing, business strategy, and analysis, King individually went through each IHHE student's portfolio and project and gave them a brief first impression and specific goals for moving forward. Some advice was as simple as setting up a LinkedIn profile to be more accessible for business partners or  employers, while other more specific advice centered around the business plans and models of the students.
King then gave the class a short competition: the students would win tickets by answering questions correctly; whichever student raised the most tickets would win the grand prize, an over-sized key trophy. King also gave the students an opportunity to practice their business pitches by having them work in groups to form a presentation. The friendly contest gave the class insight into what makes an effective pitch and how they can avoid common mistakes.
The day was rounded out by two more panel discussions involving local businesspeople working to strengthen their communities. Akeem Dixon (Director of Economic Development at New Kensington Community Development Corporation), Kira Strong (Deputy Director of Design and Construction at Rebuilding Community Infrastructure), Aradhya Malhotra (co-founder of Skyless Game Studios) and others were among the seasoned business leaders who were making efforts to change their communities for the better.
Whether that is launching initiatives to improve parks, libraries and other public spaces, or personally lobbying for the residents of a community, the experiences offered by the panelists offered the students insight on how a business can be managed ethically and profitably. Speaker Shani Newton said it best, "I had a lot of people help me to get to where I am and I try to give back…. Most important thing is to help the surrounding underserved communities."
April is the New York trip! The students of IHHE will have a chance to travel to a different environment and meet with entrepreneurs and established businesses there. The focus will be on marketing and knowing your audience.
Check out the video below for a glimpse of the weekend.