March 29, 2017
Session 4: The Institute's Halfway Point
"For a while I was in a drought, I wanted more education, and I couldn't find it. But then like, a hurricane came." Kenny Earle, IHHE Class of 2017
February's theme was Getting off the Bench: Industry Analysis; Financing your Business; Understanding & Analyzing Financial Statements; Key Resources.  This week we focused on the nitty gritty aspects of business infrastructure. Namely managing revenue, expenses, profit, and the intimidating topic of taxes.
Saturday Feb. 11th – Day One
"No one likes leaving food at the table, no one. But tell you what,  if you try to eat everything, you will choke!" Kevin Howell, Managing Director at Anchor Strategy Group
The morning started off quick and to the point with an icebreaker to ease the students into the day and gauge their well being. The students were asked to describe their internal state of mind using weather. Most were in a state of "partly cloudy" to describe the feeling of being off balance, breaking down preconceived practices to create new, viable business models. After a brief meditation of answers, we introduced our guest speakers.
Kevin Howell, managing director of Anchor Strategy Group and author/coach of All You Can Eat (AYCE), a comprehensive financial guide to strengthen understanding of business financial management, emphasized initiative and knowing your objective at all points of your business.
Howell engaged the students head-on with the lesson plan asking hard questions and calling out for responses. He used case studies to contextualize how to calculate income statements, break-evens, and other calculations essential for small businesses. Since nearly half of small businesses fail within their first five years, Kevin's overarching mission is to impart best practices to help them thrive for years beyond. "Small businesses becomes winners if they are focused," Howell stressed to the students.
A panel discussion was held in the afternoon focusing on finances and small business loans. Panelists included Beck Gusler from University of the Arts and Genevieve Ransom from Headlong Performance Institute.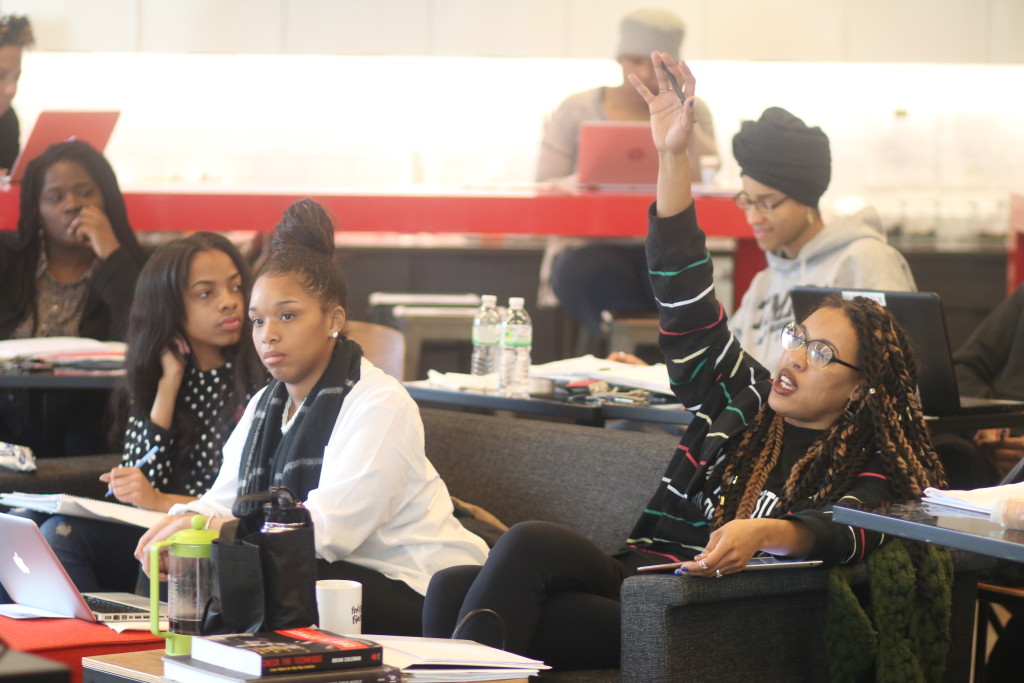 Gusler is the Associate Director of Operations for student financial services at the University of the Arts and  co-owner of Gusler Design, a graphic design and consulting company.  Ransom is the Programs and Communications Director at Headlong and works as a freelance tax preparer for artists and creatives in Philadelphia and throughout the region.
"If you're personal finances aren't in order, your business finances won't be in order," Gusler emphasized. She reviewed the strategies for reducing  debt, specifically in regard to high interest private bank loans. Ransom's background in marketing and communications enabled her to give insight on sound business strategies, and when to take risks and when to play it safe. The panel together instructed the students on the ins and outs of taxes and how to avoid common pitfalls of starting businesses for the first time.
Sunday Feb. 12th – Day 2
"A problem for a lot of entrepreneurs is that we're sure about a lot of things that just aren't true…Everything I have is yours to access, so you don't end up making the same mistakes I did." Alvin "Price" Divers Jr.
On Sunday, the speakers backgrounds ranged from the entertainment industry to marketing to project management.  The varying platforms provided a forum to discuss financial literacy within the scope of different industries.
George Pitsakis and Bryan Smith of The Enterprise Center, went through different ways of acquiring capital from traditional banks, ie a CDFI like Enterprise to crowdfunding sites like GoFundMe or KickStarter. Pitsakis and Smith were able to provide context into how they are able to help a small business or venture get off the ground, and the options available to the students.
The Enterprise Center is focused on providing access loans and financial assistance to under-represented and minority entrepreneurs; their clients are comprised of 90% people of color and 60% women.
Throughout the weekend, the students were guided through stretching or breathing breaks. While, this session's focus was to get our students critically engaged in financial practices, IHHE's holistic objective is to help our students develop the strategies and practices to nourish not only their professional growth, but also their personal. On Saturday morning, the students were asked to compare their learning experiences so far to weather; some remarked that they felt like a sunny day where the knowledge and mentorship that they were getting from the instructors were helping grow their business ideas, while others could feel a storm on the horizon feeling as if they were truly about to be put to the test starting a business venture or organizing an event.
Another team-centering activity involved the students getting up from their seats and closing their eyes. They were told to count from one, where only one person at a time was allowed to say a number; if more than one person said a number, the count had to be restarted. This is a guessing game that focuses on listening skills and strategy. With each passing month, the students comfort level with each other, the staff, their individual businesses and most importantly with themselves grows leaving a positive forecast of sunny days ahead.
March will focus on social responsibility, partnership building and community development.