March 17, 2017
Student Highlight Series: Akasha Maples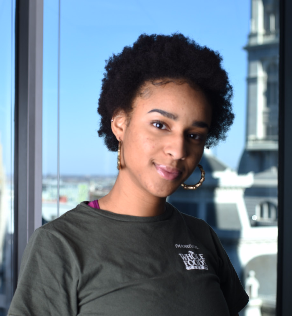 "I was that kid in high school that was doing everything, and everyone knew me and all the things I was doing. But in college, I was a smaller fish in a bigger pond you know? Freshman year I was trying to do everything, but by senior year i was only in one org. I thought 'School's gonna be over soon, what can I do in life well?'"
Akasha Maples is a creative artist, a DJ and a content producer for Dinner Land, a New York-based music production company. She is a part of the Institute of Hip Hop Entrepreneurship's Class of 2017.
Akasha grew up in Jersey City, New Jersey. Her mom always had her doing pursuing the arts, whether that would be violin, drawing or singing. Even Taekwondo!
In following her mother's creative tendencies, Akasha started taking an interest in singing opera in middle school to high school. "I was really a renaissance woman in high school, involved in lots of clubs and orgs and sports teams." She was accepted into Temple University, where she tried to continue her art. "It didn't work out," she told me, laughing. Instead, Akasha found an interest in audio production, and switched her focus of study towards that exclusively. She then took it a step further and learned how to DJ.
"I need to develop patience and discipline to keep doing my projects. I'm trying to find out if I really am passionate about my projects. And I think I am! But I'm also working on not spreading myself too thin; I realized real life isn't like high school, so I'm figuring out where my priorities are. I have my hands in a lot of projects, which is cool, but I need to focus to do well."
Her current goal is to make her own house music that she can perform while she DJ's. Akasha had a 9-5 job, which she had to leave after getting hit by a car. "The Universe was telling me something. So I left! I just want a job that makes me happy, and is intellectually stimulating."
Akasha went to the South by Southwest music festival last year, where she saw Erykah Badu perform her concert, and had a revelation. "When you see the successful DJ's making the big bucks, that they are often producers as well! So music videos have always been something I wanted to do. I shot my first music video this past summer, and then in October for an artist friend Bri Steves."
Akasha's IHHE project is called Venus Flytrap, an all-women showcase and philanthropy drive that aims to cultivate the greater creative community while uplifting the local community by giving women in local underground scenes a platform to be seen; the project also raises donations for feminine hygiene projects for homeless women in Philly. "I had two events last year and I'm hoping to continue the series soon. I got a lot of support from different feminist student organizations at Temple, U by Kotex, REC Philly, Jack Daniels, and some other brands as far as donations and sponsorships."
Recently, Akasha has a position as an event coordinator at WinWin Coffee Bar, a worker-cooperative cafe and bar in Center City. She regularly writes her own original music, often working on several projects at a time, and was one of the headlining DJ's for Pussy Claps Back, an event that benefited the Planned Parenthood of Southeastern Pennsylvania and Girls Rock Philly. 
You can follow her on Twitter and SoundCloud!